IAMG2015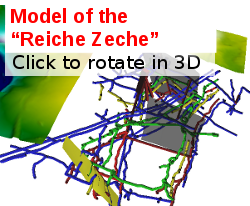 requires ® Adobe Acrobat Reader
News↑
Farwell and see you in 2016 in Cape Town


IAMG 2015 is over. We had 5 short courses, 5 plenary key note speakers, 5 parallel scientific tracks hosting 33 sessions, 208 presenters from 6 continents and 33 countries presenting 255 contributions, 277 participants, and a lot of positive feedback. The DVD Proceedings (ISBN 978-3-00-050337-5) can be ordered from the IAMG. A free download option is available for IAMG members. Farwell and see you in Cape Town for the IGC 2016, for the IAMG 2017 in Perth, and at the 50th aniversary for the IAMG 2018 in Olomouc.

Student Awards


The best student poster award goes to Kristina B. Helle for the contribuiton

Kristina Helle (2015) sensors4plumes - Optimise sensor networks for plume monitoring

showing how a polution events can be detected rapidly with a minimum number of monitoring stations. The best student oral presentation award goes Jared Deutsch for his contribution

Jared L. Deutsch*, Thomas H. Etsell, Jozef Szymanski, Clayton V. Deutsch (2015) Downscaling and multiple imputation of metallurgical variables

showing a way to predict ore properties for matallurgical optimisation honoring known contraints from exploration measurements.

The conference starts!


Short courses started on Saturday 5th. All short courses are taking place at the University Campus, building Otto-Meisser-Bau, Gustav-Zeuner-Strasse 12. The opening ceremony will take place on Monday 7th, 8:30 at the Alte Mensa building, Peterstrasse 5 in the old city center. The rest of the conference will take place on the University Campus: the meeting point will be the building Clemens-Winkler-Bau. Note that during the activities in the Alte Mensa, the registration desk and the Clemens-Winkler-Bau are closed, as no registration is needed to attend the opening ceremony. Come directly to the Alte Mensa!

Presentations upload


Please do not forget to upload your slides (oral and poster teaser). Some people have encountered strange problems when uploading contributions larger than 8MB. Please try again. The problem should be fixed now for files up to 128MB. To upload your slides you log in and go into your contribution. The link to upload the slides is placed below the one for the extended abstract.If everything else fails, please upload with anonymous-ftp to ftp://www.iamg2015.de/incoming. In this case, rename your file base name with the contribution code according to the programme (e.g. G1234.pdf and G1234-movie.mov). We apologize for any inconvenience.

Programme online


The detailed scientific programme is now online and can be found as second item in the left menu bar. You can generate a personalized programme by selecting the contributions you would like to hear or see, based on topics, sessions, methods, authors and short abstracts. Please contact the conference office as soon as possible concerning any problems concerning the schedule.

Conference hotel booking closed.


Finally, more than six weeks, after the announced hotel booking deadline, the conference hotel booking site is now finally sold out. If you have not booked a hotel yet, the conference office might still be able to help you.

Video HOWTO: access to your profile at iamg2015.de explained!


This video (approx 30 MB, 5 min., make the window BIG!) shows how to create a new profile (for non-IAMG members). Remember that IAMG members can use their profile name and password from iamgmembers.org

The scientific programme is finished!


All building blocks of our scientific programme (focus sessions, field trips and short courses) are now available. Apart of the focus sessions, the general sessions will be defined later on, following the abstract submission deadline. NOTE: some excursions and short courses will NOT taking place because of lack of participants. Please consider registering to one of them NOW. Prices are very competitive, and accomodation in Freiberg is one of the cheapest in Europe. Student and retired people can claim special prices.
General Information↑ The 17th annual conference of the International Association for Mathematical Geosciences IAMG2015 takes place on September 5-13, 2015 in Freiberg, Germany. The scientific sessions will be held on September 7-10. Acceptance of short abstracts will be communicated mid April. Extended abstracts should be submitted by June 1.